3 More of the Band of Brothers Go into that Good Night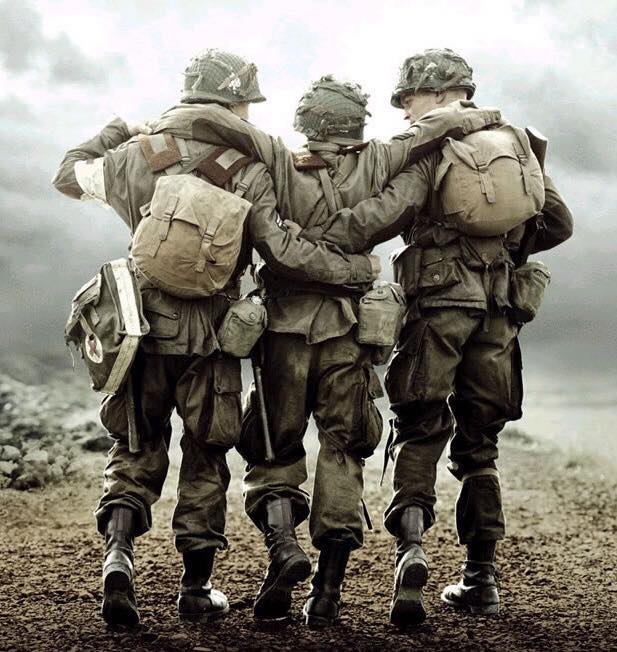 Three of the original Band of Brothers have passed away within the past three weeks—Don Malarkey, Tex Combs, and Herb Suerth Jr.—leaving 9 known men from the outfit still alive.
The Band of Brothers were the men of the legendary Easy Company, 506th Parachute Infantry Regiment, 101st Airborne Division, an elite group of World War II war fighters, made famous by the HBO miniseries produced by Tom Hanks and Steven Spielberg.
They formed and trained at Camp Toccoa, Georgia, under the tough and controversial Captain Herbert Sobel. After training stateside, the men rode the troop ship, Samaria, to Aldborne, England for further battle preparation. They parachuted into Normandy on D-Day and, later into Holland for Operation Market Garden. They fought their way through Belgium, France, and Germany, survived overwhelming odds, liberated concentration camps, and drank a victory toast in April 1945 at Hitler's hideout in the Alps.
Along the way they encountered horrors and victories, welded themselves into a family of soldiers, and helped swing the tide of World War II, and ultimately the course of history.
At the start of the war, some 140 men formed the original Easy Company at Camp Toccoa.
By the end of the war, due to transfers and (mostly) to men getting shot, 366 men are listed as having been a part of Easy Company.
Of the 9 men total still alive today, all are in their 90s, and four still make public appearances. Medics Al Mampre and Ed Pepping are still active at events and signings. Colonel Ed Shames is the last surviving officer. And the kind and gentle Bradford Freeman still works his farm and makes public appearances from time to time.
The rest of the still-living men I purposely do not name anymore, because family members have asked me to preserve their anonymity as much as possible in the men's final years.
In 2008, I interviewed 20 of the last surviving men for my book We Who Are Alive & Remain: untold stories from the Band of Brothers. Of those 20 specific men who chose to participate in that project, only 3 are still alive.
Among the men who just passed, Don Marlarkey, one of the more well-known men in the company, died September 30, 2017, at age 96. I had the tremendous honor of meeting Don several times throughout the years. He was close friends with Lt. Buck Compton, and I interviewed Don when I did Buck's book to see if he would give me any insider information (he did).
Don was portrayed in the miniseries by actor Scott Grimes, and Don's excellent memoir, Easy Company Soldier, was written by journalist Bob Welch. Obituaries for Don Malarkey can be found HERE (USA TODAY), HERE (NPR), and HERE, (Welch's obituary at the Register Guard), among others.
James Monroe Tex Combs died on October 7, 2017, in Lafayette, Louisiana. He was considered one of the more "hidden" men who didn't associate as closely with the outfit after the war.
Combs parachuted into Normandy on D-Day and fought for 18 days before being wounded by artillery and sent to the hospital. He wound was severe enough for him to be sent home, but he chose to rejoin his outfit to fight in Operation Market Garden. He also fought in Bastogne.
Herb Suerth Jr. was the last standing president of the Men of Easy Company Association. He died October 14, 2017, two weeks shy of his 93rd birthday. His wife, Monna, told me by phone that Herb died peacefully.
Herb was still in high school when the bombing of Pearl Harbor happened in December 1941. After he graduated, he enlisted and joined the unit as a replacement in time for the cold-harsh winter fighting surrounding Bastogne.
Both of Herb's legs were broken when an artillery round landed next to him. In the miniseries, Herb describes how immediately after being wounded, he figured he was dead. He said the Act of Contrition, because he was a Catholic, then he thought of the anguish his mother was sure to go through, because he was an only child.
Herb spent the next three months in skeletal traction, then another six months in bed, then months of rehabilitation while his legs slowly and painfully healed. After returning stateside, Herb went to university to study engineering. He married, and he and his wife had nine children.
I had the incredible privilege of interviewing Herb for my book, meeting him several times over the years, and participating in a book signing with him and several of the men in Columbus, Ohio, in 2009, just after our book was released.
One of the final questions I asked Herb was what he would want today's generations to know about WWII. He said this: "Unless you're willing to stand up and be counted for what you believe in, you will lose all of the freedoms that are important to you."
Thank you, men of Easy Company, and all veterans past and present, for your service in the name of freedom.