To know Bill Guarnere (1923-2014) was to love him
'Wild Bill' Guarnere died this past Saturday March 8, 2014. He was a month shy of 91.
Guarnere was perhaps the most colorful member of the Band of Brothers. He lost a leg in an artillery barrage during the battle of Bastogne and was easily recognizable in later years by his crutches and ever-present Easy Company jacket.
I asked biographer Robyn Post, who wrote the book about Guarnere and Babe Heffron, Brothers in Battle, Best of Friends, how Bill might want to be remembered. She wrote to me this morning in an e-mail,
That's an easy one: How much he loved and thought of his men every day of his life. Even in civilian life he remained their sergeant, checking on them all the time, arranging reunions (and putting so much of his personal time, energy and money to do it—out of love).
 He was the first one they'd call when there was something good or bad to report. They were his men during the war and remained his men in life.
 And he said he thought of them every single day. He seemed to stay alive these final years just so he could honor his friends by seeing them pass first—so he could give them their final salute.
I called Bill last week and got to talk to him and tell him I love him, as always. He seemed fine then. Even answered the phone with his usual 'Yowza.'
Personally, I met Guarnere twice, once at an Easy Company reunion, and once at an airshow, where I sat next to him for several hours and signed books. I found him to be salty, funny, kind, and gravely passionate about his friends, country, and freedom.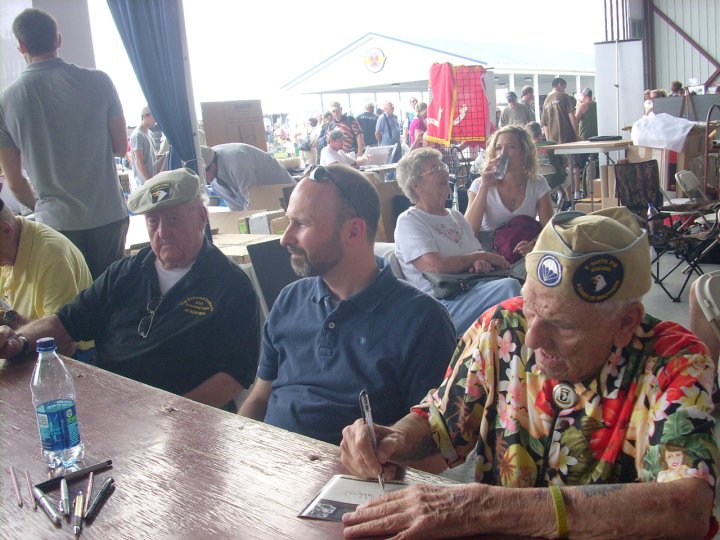 I spent more time with Lt. Buck Compton, who knew Guarnere well, and Buck described to me how really Bill Guarnere "belonged to America" in the sense he was a living symbol of the high cost of freedom. "I have a friend who lost a leg in the war," Buck said to me more than once. "Don't tell me that freedom doesn't have a price."
Guarnere grew up in near poverty on the streets of South Philadelphia, the youngest of 10 children. He described the experience this way, "Even as a baby, you were geared to work and to try to earn a penny. For that your parents fed and clothed you. You [worked] for neighbors, too. They handed you an apple or a penny and you were happy."
The day Pearl Harbor was bombed, Guarnere was playing craps in the streets. He went to work in a defense factory making Sherman tanks. He was exempt from the draft because of his job, but then enlisted in spring 1942 and soon became a paratrooper. He said, "The paratroopers were … the elite of the army. If you're going to combat, you want to fight with the best."
Just before he went into battle, Guarnere learned that his brother Henry had been killed in the Italian campaign. Guarnere jumped on D-day determined to revenge his brother's death. He lost his rifle on the jump down, but soon found a Thompson submachine gun. About 4 a.m. the first morning, it was pitch dark, he heard a Nazi supply wagon coming into view filled with enemy soldiers. Guarnere let loose and shot everything he saw. Later, he received the Silver Star for his actions in the assault against Brécourt Manor.  
Guarnere parachuted into Holland for Operation Market Garden where he was shot by a sniper in the leg. He put black shoe polish over his cast, broke out of the hospital, and rejoined his unit just before the battle of the Bulge.
During the battle of Bastogne, another E Company member, Joe Toye, was wounded during a massive artillery barrage. Guarnere risked his life to run to help him. That's when he was caught by a second barrage. Guarnere's critical injury came because he helped a friend.
Guarnere spent his first year home from the war in a hospital. He and Joe Toye held wheelchair races down the hospital's hallways. One of the first things Guarnere did stateside was get a tattoo in honor of his deceased brother Henry.
Guarnere was longtime sweethearts with a girl named Frannie. They wanted to get married, but both of their families tried to talk them out of it due to Guarnere's disability. On April 23, 1945 Guarnere and Frannie ran away to Maryland, not a penny between the two of them, and eloped. Eventually they had two sons.
Guarnere received a free car from the government for being a war amputee. The new car stuck out like a sore thumb in impoverished South Philly, so Guarnere gave his car to his father-in-law in return for an old junker, a decision he "never regretted for a minute," Guarnere said.
Guarnere worked a variety of jobs and eventually went into business for himself as a contractor and home remodeler.
He remained close friends with fellow Easy Company members, and ran the annual reunions for years. He was portrayed in the HBO miniseries by actor Frank John Hughes.
Stories of Wild Bill's exploits have abounded through the years.
Here's what Susan Finn Smith (daughter of Easy Company member Robert Burr Smith) said about him:
Many of the men have told me that when my father (Burr Smith) first showed up in the Army, he came in as this good-looking, well-educated, well-read, southern California kid—and they all thought he was going to be a real high brow.
 Bill Guarnere has said to me that Dad was really skittish when he first showed up, so Wild Bill stuck a gun or bayonet under his neck and said, 'It's either kill, or be killed, kid.' Dad lost his skittishness really fast after that. He won them over and turned out to be a strong soldier in the end, the men say. 
Here are a few stories from Lana Luz Miller (daughter of George Luz Sr.):
I remember going to one reunion in Nashville. I had just started a job and couldn't take time off, so Dad left me money for me to take a flight down for the weekend. My father and Bill Guarnere came to pick me up at the airport. I sat between them in the front seat.
 Bill was driving. The car had a stick shift, and Bill only has one leg, so it was kind of a wild and hairy ride from the airport.
 Bill and Dad were always good friends. When Dad died in 1998, Bill drove over to Rhode Island from Philadelphia for the funeral. My mother always thought Bill was kind of loud and brash (and he is—he says words like 'broad'). Well, Bill came to the door because he was staying at the house and Mom asked, 'Is there anything you need to get from the car?'
'Naw,' Bill said. He had his suit over his shoulder. 'I got my suit here, an extra pair of underwear in one pocket and an extra pair of socks in the other. That's all I need—I'm all set!'
 During the wake, Bill went outside and had a cigarette. My daughter was outside then and Bill showed her how to 'field strip' a cigarette (as if she really needed to know). I guess cigarette butts aren't biodegradable, so you stub out your burning cigarette, remove the filter and put it in your pocket, tear the paper and scatter the tobacco, then roll up the paper into a tiny ball and throw it away.
 Or in Bill's case, you eat the paper—which he did.
 You've absolutely gotta love Bill Guarnere.
Tony Coulter, a friend of Easy Company vets, said this:
A few years back when Shifty Powers was struggling with his cancer, Bill and Babe did a signing that brought them about $3000. They both said after the signing almost in unison, "Well let's get this off to Shifty." I know this because I was tasked with the job of sending the money. I was sworn to secrecy, and now that they are gone I can tell about this generosity. They wanted no credit other than the knowledge that they helped a pal.
Bill had a heart attack 7 years ago and the doctors agreed that it was a matter of time until the end. I drove Babe to see him every day. Babe would sit in a chair for 10 – 12 hours and just wait for Bill to awake or start talking. Babe would take a small towel and wet it and sit there wiping Bill's forehead.
Bill had a great sense of humor and loved to laugh. No matter how bad a situation was, he would find a way to get a laugh out of it. "You gotta laugh kid, or you will go nuts."
Buck Compton (1921-2012) talked about him often. Here's how Buck remembered Bill during the battle of the Bulge, when the two of them often manned listening posts during the frozen winter nights.
Sgt. Bill Guarnere sat with me on many of those nights.
 He was much more soft-hearted than he ever let on. In the series, it shows us together in a foxhole. In the background we can hear the Germans singing 'Silent Night' not far away from us. I hand Guarnere a picture of my girlfriend back home, lamenting to Bill that she was finished with me—just in time for Christmas.
 I don't remember that ever happening—the singing, or the picture incident—but this often did: Bill and I were supposed to take turns staying awake and sleeping. Often I'd wake up and he'd say in his south Philly accent, 'Aw, go back to sleep, Lieutenant. I got it.'
 I'd protest, but he'd always insist.
Bill Guarnere, you were a man who led well.