Launch Team Information
Would you like to be on the LAUNCH TEAM for my upcoming book, BLAZE OF LIGHT?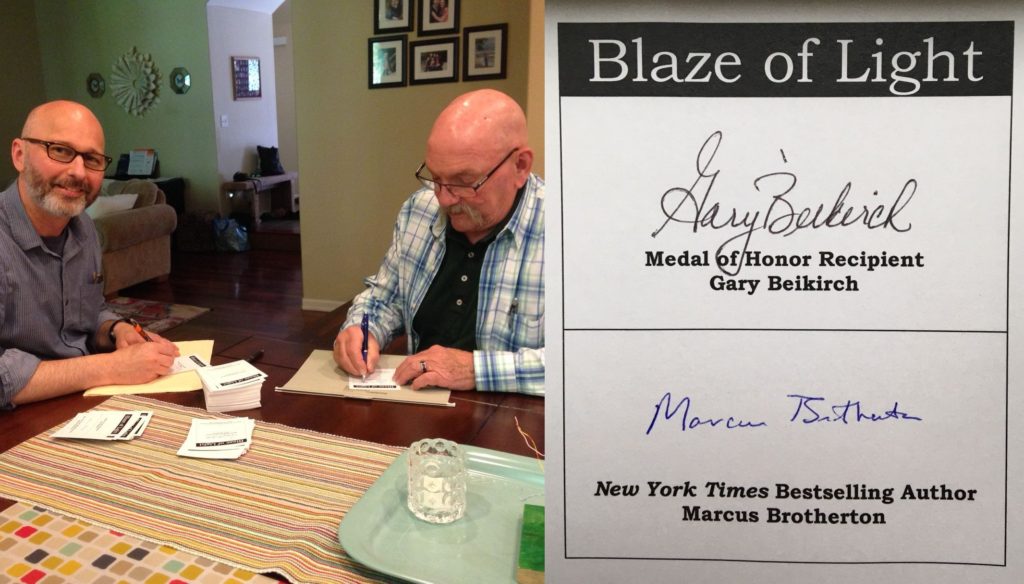 If yes to being on the launch team, then please read to the very bottom of this notice, and then email me at allies@marcusbrotherton.com. Make sure you include your mailing address.
I'm looking for help to spread the word about BLAZE OF LIGHT, my biography about Medal of Honor recipient Gary Beikirch, a Green Beret Army medic. The book is being released in a few weeks, on March 24, 2020. It's for fans of 'Hacksaw Ridge' and 'Unbroken.'
The launch team is not for just anybody.
I'm looking for motivated, enthusiastic, book-savvy folks. People who've seen how many Vietnam veterans received a raw deal when they returned from the war. One of the ways we can help overturn this raw deal is by shining the spotlight on courageous and selfless stories from that chaotic epoch in history.
As a launch team member, your responsibilities are straightforward. Preorder the book, then read it and write an honest review. Here's how:
Email me right now at allies@marcusbrotherton.com to say you're committed to being on the launch team. Within the email, it's important to send me your MAILING ADDRESS. Readers from all countries are welcome to be on the team.
Preorder a copy of BLAZE OF LIGHT immediately through Amazon or Barnes & Noble. When your book is shipped to you on March 24, 2020, read the book as soon as possible, preferably within 1 to 2 weeks.
After you've read the book, post a review of BLAZE OF LIGHT on Amazon or Barnes & Noble. Preferably on Goodreads too. (Your review should be genuine. You don't have to love the book.)
In exchange for being on the launch team, I will gratefully mail you a commemorative, double-signed, signature plate for the front of your book, as pictured above.
The signature plate is signed by both Medal of Honor recipient Gary Beikirch and me. The plate is adhesive and can be placed in the front of your book.
Gary and I certainly welcome any mentions you make of the book on social media as well.
Early readers are already loving BLAZE OF LIGHT. Here's what Oscar-nominated actor Gary Sinise said: "The Medal of Honor Society is comprised of a highly elite group of American heroes. What Gary Beikirch did to receive his Medal is unforgettable—and the story of what he overcame afterward is as big and moving as they come."
I'll pick the first 200 responders to be on the launch team.
Send me an email ASAP: allies@marcusbrotherton.com
Thank you,
–Marcus