The Marriage Manifesto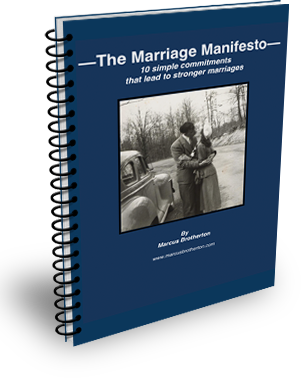 I'm excited to announce the launch of my first e-book—The Marriage Manifesto—and it's yours absolutely free.
What's the e-book about?
In my line of work as an author and collaborative writer, I interview a lot of great minds.
Over the years I've heard from hundreds of leaders—everybody from NFL quarterback Colt McCoy to international humanitarian Susan Scott Krabacher to Lieutenant Buck Compton, one of the original Band of Brothers.
I've noticed a trend. Great leaders have a lot of powerful insight into what matters most—including marriage. So I've been taking notes.
This book is the distillation of what I've learned about how to have the strongest, most rewarding marriage possible.
How to get your free e-book:
Sign up to receive my blog posts via e-mail, and I'll send you The Marriage Manifesto: 10 simple commitments that lead to stronger marriages.
Simply enter your e-mail in the box below. I'll never sell or share your information, and you can unsubscribe anytime.
After confirming your newsletter subscription by clicking a link in your e-mail, you will be taken to a separate page where you can download my brand new e-book in a PDF format for FREE.
About the Marriage Manifesto:
It's extremely helpful. The book is full of practical advice you can use today.
It's purposely concise. You can read it straight through in one sitting.
It's really works. This book will help you have a better marriage.
Here's what leaders are saying about The Marriage Manifesto:
"I loved The Marriage Manifesto. Taking up the challenge and committing to the 10 commitments will protect your marriage from harm and draw you closer to your spouse. The commitments are simple but not easy. Live and love by these principles and you will have your priorities in the right place for a successful relationship."
—Jim Burns, Ph.D.
President, HomeWord
Author of Creating an Intimate Marriage
"Marcus Brotherton's The Marriage Manifesto is an embarrassingly simple, foolproof guide for everybody walking the face of the earth to have a great marriage. I've read hundreds of books on marriage that did not contain half as much wisdom as is contained in this little booklet. In fact it's so good I'm already stealing portions of it for my next book!"
—Rick Johnson
Bestselling author of Becoming Your Spouse's Better Half and The Marriage of Your Dreams
"Would you invest an hour of your time to have a smokin' hot marriage? How about half an hour? You can. In less than the time it takes you to watch a Seinfeld rerun, you read Marcus Brotherton's new e-book—and you'll get rock solid advice that can take your marriage to the next level."
—David Murrow
Director, Church for Men
Bestselling author, Why Men Hate Going to Church
Grab your free copy.
Ready to have a stronger marriage? Enter your e-mail below to receive a FREE copy of The Marriage Manifesto. Once you confirm, I'll send a PDF straight to your inbox.